Indoor Air Quality
We all need clean air to be healthy and thrive. Now more than ever people are concerned about the quality of the air being circulated throughout their home or office. Air Innovations of Florida can offer several solutions including Air Duct Cleaning and FRESH-AIRE UV technology.
Because our homes are built so air tight, with little outside ventilation, your ductwork can be a trap for mold, bacteria, viruses, dust mites, pollen and pet dander. Having your air ducts cleaned is important. We use the most powerful air duct cleaning equipment available. Or we can install FRESH-AIR UV technology directly inside your central air system to keep it clean year-round. Microbes and odors are eliminated as air cycles repeatedly through the system. FRESH-AIRE UV products protect your family or business, extend the life of your air system and reduce energy and maintenance costs.
Save on HVAC Maintenance, Energy & Equipment Life
Every building can benefit from ultraviolet germicidal irradiation (UVGI). Installing a Fresh-Aire UV UVGI system will result in significant energy and maintenance savings. These systems also improve indoor air quality for building occupants by reducing airborne biological contaminants and toxic VOCs.
We Serve All of Southwest Florida
Air Innovations of Florida serves Port Charlotte, Punta Gorda, Fort Myers, Cape Coral, Estero, Bonita Springs, Naples, Marco Island and surrounding areas in Charlotte, Lee and Collier counties.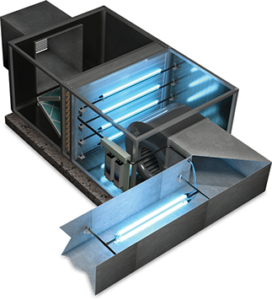 Rotobrush Air Duct Cleaning